Stoneground Panjeeri | Natural Superfood Blend
Regular price
Rs.995.00 PKR
Unit price
per
Sale
Sold out
Amna's Naturals & Organics Stoneground Panjeeri - a super-blend of nuts, spices, dried fruits and grains
A staple in Punjab for thousands of years, Panjeeri is not only a health supplement for new mothers but also a popular snack during the winters.
Panjeeri is known as a traditional healing food for mothers. They should eat it right after giving birth, because their bodies require a lot of energy. The ingredients used in panjeeri can help the mothers regain their strength and provide them with nutrients, which are essential to breastfeed.
Panjeeri promotes the flow of breast milk.
It provides energy and cures postnatal depression.
Panjeeri helps get the uterus back to its normal self after delivery and removes the excessive fluid in the uterus.
It contains healthy ingredients thus, can be used as a snack without the fear of harming your body in any way.
Panjeeri is known to increase the immunity of our body and thus, cures common colds that one catches in winters quite easily.
It keeps your body warm from inside.
Panjeeri generates heat inside the body which is used by our body to heal it from inside, so it is really beneficial for people who have any sort of a wound especially mothers right after giving birth.
Give it a try and say good-bye to those winter blues while gaining all the nutritional benefits!
Ingredients:
Pistachios, Almonds, Coconut, Gond katira , Makhanay, Charmaghaz, Cardamom, Cashew, KhashKhash, Alsi, Kamarkas, Gram Flour, Suji
Our Products are All Natural - FREE of any preservatives, artificial colours, flavours or additives. The only additive we use is Love!
Share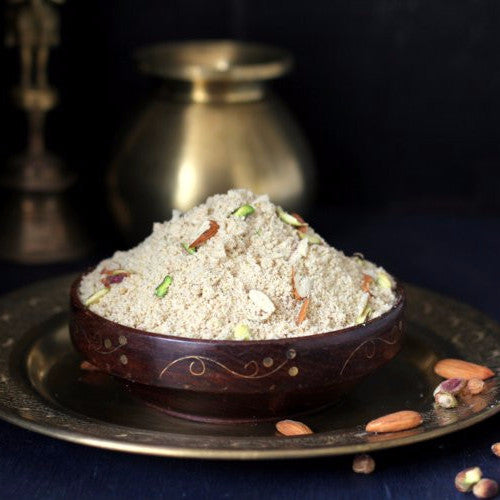 Overall a good experience
Everything was good and upto the mark.
Panjeri
Bhtttt hi fazol just sugar beja he v disappointed ☹️
Stone ground Panjeri
One of the best. As a future Daddi was concerned as wanted to give my beti. Alhamdullilah Amna' Natural Organic products fulfilled the dream. Thank you so much. Very grateful. Reordered it.
Delicious and healthy
Its very good and taste is delicious.
Highly recommended. Definitely going to order again!!!
Looking forward to any upcoming SALE ahead.
Let customers speak for us